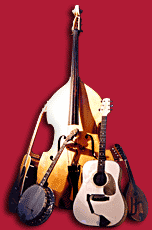 The Bards Management
47 Casimir Road,
Harold's Cross,
Dublin 6W, Ireland
Telephone: +353 1 492 3307
E-mail: info@thebards.ie
Diarmuid O'Leary and The Bards are firmly established among the top entertainers in Ireland today and have several hit songs to their credit. Equally at home in concert, cabaret, festivals or corporate entertainment, they will enhance any event with their unique blend of music, song and humour.

While Diarmuid O'Leary and the Bards are associated in the popular mind with their comedy hit songs, equally strong facet of the group is their ability to render a wide range of more serious and contemporary material, together with exciting instrumental arrangements of traditional Irish music. In addition to their humorous songs, a typical live show includes contemporary songs such as "The Railway Hotel" and "Shaney Boy"; the classic ballad, "The Isle of Innisfree"; the haunting traditional air of "Roisin Dubh"; the hilariously outrageous "Turf Song"; and not forgetting the song which produced that rare Irish greeting and catchphrase "How's She Cuttin?"

As well as their performances throughout Ireland, The Bards tour extensively abroad. They appear regularly in England, Scotland, Wales, Europe and the United States and in recent years have taken their music to places as far away as Hong Kong, Singapore, Kuala Lumpar, Indonesia, Baghdad and Dubai and they are regular visitors to Iceland.






The group's recordings receive regular airplay both in Ireland and abroad and over the years they have appeared on many major TV shows on RTE, BBC, ITV, UTV and other networks.

If you have an opportunity to see and hear Diarmuid O'Leary and the Bards, you will certainly enjoy their blend of music, song and humour and come away filled with the enthusiasm which they generate everywhere they play.